Bathroom Remodeling in Chevy Chase, MD
The bathroom is one of the most important rooms in your house. As a necessity, it should be well-designed and comfortable, equipped to improve your everyday life and add value to your home.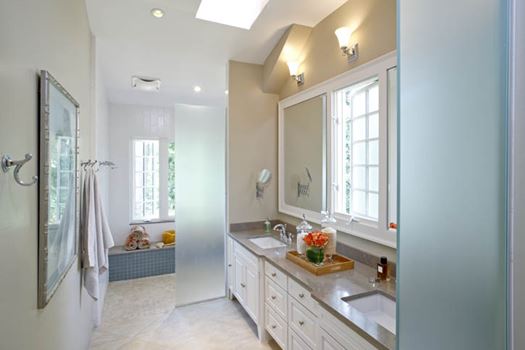 As a design-build firm in the Chevy Chase, Maryland area, Wentworth maximizes function with an eye toward smart and innovative design in every bathroom remodel. Our award-winning team of architects, interior designers and craftsmen work together to design and build a bathroom suited just for you and your home.
Working with Wentworth to Create the Bathroom of Your Dreams
A Wentworth bathroom remodeling project begins with a survey of the homeowners' wishes and needs. In order to get a clear picture of the project, we'll start with a few questions:
How does the bathroom's current location impact the design?
Is the homeowner concerned more with luxurious details?
How does the home's age and style impact the aesthetics of the bathroom?
Are there any "must haves"? Deluxe shower? Whirlpool tub? Double-sink vanity?
How can we achieve the best design for the budget?
What storage considerations should be incorporated into the design? His and her closets? Linen closets? Built-in shelving?
When it comes to remodeling your bathroom, we look at the whole picture. A Wentworth bathroom design is holistic. The remodel can be as simple as redoing the space within its current footprint, but it is more typically a project involving the redesign and reconfiguration of a cramped, outdated bathroom and master bedroom. Many older Chevy Chase area homes have bathrooms that are considered too small by today's standards.
Based upon years of experience renovating older homes, Wentworth is able to efficiently maximize space and minimize cost when tackling a master bathroom renovation. We understand that simple solutions—from new cabinetry to glass shower stalls—are just as important as reconfiguring interior space. Whether your bathroom remodel is large or small, we can create an open and relaxing space to fit your lifestyle.
Master Bathroom Remodel in Chevy Chase
The Wentworth team completed a master bathroom remodel and addition project in Rollingwood, Chevy Chase. The new bathroom has a sleek, modern look, featuring a custom vanity with a limestone countertop and a roll-in shower with frosted glass doors and custom built-in bench.
View pictures of this project »
Bathrooms for Every Lifestyle & Design Taste
When you hire Wentworth for your bathroom remodel, work is carefully scheduled and coordinated to minimize disruptions to your home. Our Production Manager and on-site lead carpenter will manage every step of the project, ensuring that deliveries and subcontractors arrive on schedule and without incident. We are committed to professionalism in every project. Bathrooms may be one of your home's smallest rooms, but they deserve the same attention as a massive kitchen renovation.
From age-in-place design to art deco, the Wentworth team has designed it all. We invite you to explore past bathroom remodels in our online portfolio. If you're ready to discuss the benefits of a new bathroom for your Chevy Chase area home, please contact us to arrange a complimentary consultation.