Washington, DC Area Kitchen Remodeling
The kitchen is the heart of the home. Whether it's for the preparation of family meals or for parties with friends, your kitchen is one of the most used rooms and is often the central hub for gathering and entertaining. It's no surprise that kitchens are one of the first rooms homeowners wish to renovate. Such remodeling presents the opportunity for the perfect union of function and design, a trademark of Wentworth, Inc. A smart and thoughtful kitchen remodel improves not only the value of your home but also everyday enjoyment.
Wentworth specializes in kitchen renovation and design-build in the Washington, DC metro area, including Montgomery County, Maryland and Northern Virginia.
Visit our photo gallery of award-winning kitchen remodels!
A Recipe for Kitchen Remodeling Success
Every Wentworth project begins with research. Based on the client's needs, with a particular emphasis on meal preparation and dining habits, we form a unique plan that suits both the home and the homeowners. A truly stunning space is one that is both functional and aesthetically pleasing.
Our team explores these commonly considered issues when embarking upon a major kitchen remodel:
How will the kitchen be used? Mainly for cooking? Entertaining? A bit of both?
What type of seating is the most suitable? A breakfast nook? Bar space and barstools? An elegant dining room table?
How can the home be altered to suit the existing structure and architectural style while adding space and function?
How do the home's age, style, and period impact the aesthetics of the kitchen to ensure a seamless integration of the old with the new?
Will the addition of new windows and doors with access to the outside increase natural light and overall enjoyment of the space?
Kitchen remodeling with us will minimize stress and maximize the enjoyment of your home. We have successfully remodeled countless Washington, DC area kitchens with exceptional results, on time and within budget. A Wentworth kitchen provides happiness and increased home value.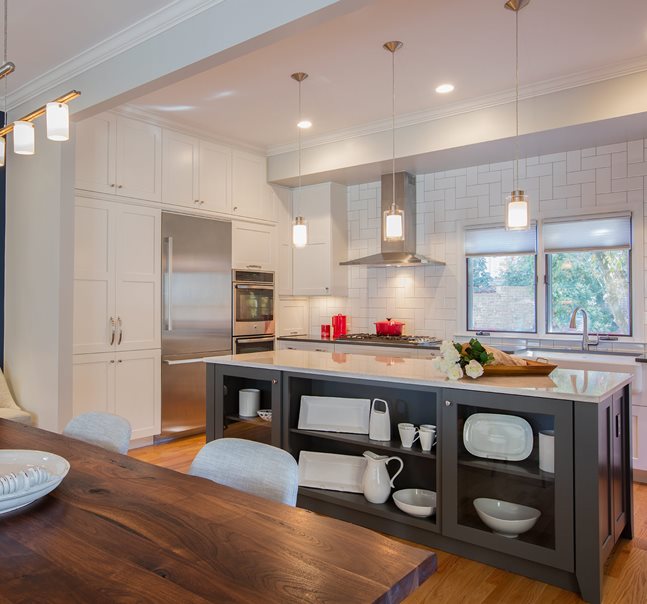 The Wentworth Value
When you renovate your kitchen with Wentworth, we take care of every detail. There's no need to hire a separate kitchen designer and interior designer. Our in-house architects and interior designers will help plan your new kitchen layout, assist with appliance selection, and guide you through the myriad kitchen finishes, from countertops to lighting fixtures. Our in-house estimator guarantees you get the most for your budget and allows us to track your project from the design phase through construction documents and into a final fixed-priced construction contract. Before our construction team even touches a kitchen cabinet, you're in the loop.
Once construction is underway, our Production Manger will oversee all day-to-day operations onsite. Together with a lead carpenter assigned specifically to your project, our Production Manger will efficiently handle every detail of the kitchen remodeling process and will ensure proper deliveries of materials, appliances, and cabinets. An onsite presence expedites the overall project while providing oversight for daily work flow and deliveries to your home.