Kitchen Remodeling near Chevy Chase, MD
Home Remodelers in Washington, DC, Maryland & Northern Virginia
The kitchen is the heart of the home. Whether it's for the preparation of family meals or for parties with friends, your kitchen is one of the most-used rooms in your home, and it's often the central hub for gathering and entertaining. It's no surprise that kitchens are one of the first rooms homeowners wish to renovate—this project presents the opportunity for the perfect union of function and design, a trademark of Wentworth.
Our premier kitchen designers are proud to offer comprehensive, local kitchen remodeling services throughout the DC, MD & VA area! From contemporary kitchen design in Chevy Chase, MD to modern kitchen design in Washington, D.C., the Wentworth team can do it all.
Visit our photo gallery to see pictures of our award-winning kitchen designs!
Learn more about Wentworth's kitchen remodeling services by calling (240) 383-1226 or contacting us online!

How Should I Start to Achieve My Chef-Inspired Kitchen?
Every Wentworth project begins with research. Based on the client's needs, with a particular emphasis on meal preparation and dining habits, we form a unique plan that suits both the home and the homeowners, always combining function and aesthetics.
To do this, our local kitchen remodeling team will ask questions like:
How will the kitchen be used? Mainly for cooking? Entertaining? A bit of both?
What type of seating is the most suitable? A breakfast nook? Bar space and barstools? An elegant dining room table?
How can the home be altered to suit the existing structure and architectural style while adding space and function?
How do the home's age, style, and period impact the aesthetics of the kitchen to ensure a seamless integration of the old with the new?
Will the addition of new windows and doors with access to the outside increase natural light and overall enjoyment of the space?
Kitchen remodeling with a trusted kitchen and bath remodeling company will minimize stress and maximize the enjoyment of your home. Our kitchen designers have successfully remodeled countless Washington, DC-area kitchens with exceptional results, on time and within budget. We can expertly design a chef's kitchen, gourmet kitchen, or any other style you have in mind. A Wentworth kitchen provides happiness and increased home value.
Wentworth proudly serves the DC, MD & VA area! Call us at (240) 383-1226 or contact us online now to learn about our services today.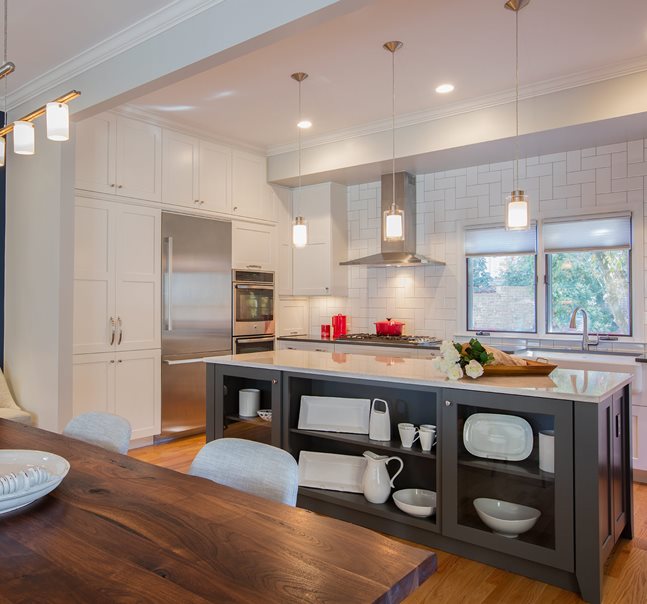 The Wentworth Kitchen Remodeling Procedure in DC, MD & VA
When you renovate your kitchen with Wentworth, we take care of every detail. There's no need to hire a separate kitchen designer and interior designer. Our in-house architects and interior designers will help plan your new kitchen layout, assist with appliance selection, and guide you through the myriad kitchen finishes, from countertops to lighting fixtures.
Our in-house estimator guarantees you get the most for your budget and allows us to track your project from the design phase through construction documents and into a final fixed-priced construction contract. Before our local kitchen remodeling team even touches a cabinet, you're in the loop.
We want to work with you through every step of your kitchen renovation process. Call us at (240) 383-1226 or contact us online to learn more!
Design Ideas for All Kitchens in Chevy Chase, MD and Washington, DC
Because Wentworth kitchen remodel contractors specialize in remodeling older homes to fit contemporary lifestyles, we are uniquely attuned to the challenges of designing a kitchen for older, urban homes. With a thoughtful design, one that takes into account the homeowner's life and the home's historic charm, a dark galley kitchen can be transformed into a modern and bright cooking and entertaining space. Every inch matters in a small kitchen. Removing the wall between the kitchen and an adjoining room can add much-needed space to a galley kitchen.
On occasion, and depending on the home's existing layout, a kitchen may be expanded into the dining room with base cabinets for storage. Additional cabinets maximize storage and minimize the need for additional dining room furniture. Adding space isn't the only way to maximize impact in a small, urban kitchen. Frosted glass cabinets provide visual interest and contribute to an open feel, while straight runs of cabinetry prevent the need for space-wasting dead corner cabinets.
Open Floorplan Design
An open layout kitchen typically fits with a homeowner's modern, informal lifestyle. This is especially true in older, urban homes (we have a lot of experience renovating DC townhouse and row house kitchens) where a seldom-used formal dining room is wasted space. Through the reconfiguration of interior space, a small kitchen and neighboring dining room can be combined into an elegantly cohesive dining and entertaining space.
Call (240) 383-1226 or contact us online to learn more about Wentworth's design and layout ideas for your Washington, DC kitchen!
Schedule a Kitchen Remodel Consultation in DC, MD or VA
Ready to transform your kitchen into a space of function and beauty? Dreaming of a brand new, chef-inspired kitchen? As the DC area's most trusted local kitchen remodeling company, Wentworth is the team to call! From narrow townhouse galley kitchens to spacious period style homes, our team has experience with all types of remodels.
Click here or call 240-383-1226 to schedule a consultation for your kitchen remodel in Washington, DC, Maryland, or Northern Virginia!
Kitchen Renovation Tips
You May Be Interested in Reading:
We service cities in Washington, DC, Montgomery County, Maryland, and Northern Virginia, including but not limited to:
Washington, DC
Dupont Circle
Capitol Hill
Georgetown
Columbia Heights
Glover Park
Woodley Park
Cleveland Park
Maryland
Virginia
Falls Church
Great Falls
McLean