Garage Conversions in Maryland, Virginia & DC
Many homeowners are fortunate to have garages built as an integral part of their homes. A one-car garage is about 220 square feet, with a two-car garage providing as much as 500 square feet of space. But many people don't use their garages for their cars. The Wentworth design-build team has remodeled homes in the Maryland, Washington, DC, and Virginia area, and over the years, we've seen junk, sports equipment, toys, and gardening tools stored in that space. That's 220 to 500 square feet of underutilized living space!
Get expert interior space reconfiguration services in the Maryland, Virginia, and Washington, DC, area, by calling (240) 383-1226 or contacting us today!
Garage Conversion Ideas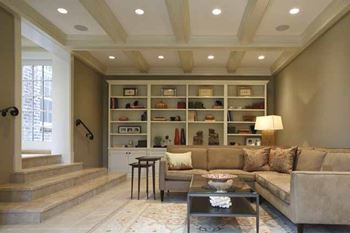 If you need additional living space for your family, and if you are willing to sacrifice the garage parking (or storage), converting your garage to living space is a smart way to add a family room, expand a kitchen, or create a guest suite without going through the expense of a home addition.
The Wentworth design-build team has completed numerous home remodeling projects that included converting a garage into a living space. Often the proximity of the existing garage to a kitchen lends itself to being easily remodeled as a spacious family room.
Converting The Interior Space of A Two-Car Garage
If you have a two-car garage, there will be ample living space — larger than most living rooms — and the high ceilings of most garages will allow us to enhance the design with a vaulted or tray ceiling. A recent garage conversion was given unique architectural detail with a coffered beam ceiling treatment and custom bookcases.
When converting a garage into a living space, our design team finds ways to open the wall from the existing house into the former garage to improve the flow of space for modern lifestyles. The new, larger room will be able to easily handle a fireplace and a gracious furniture plan.
Converting The Interior Space of A One-Car Garage
We find one-car garage conversions work best when expanding a kitchen or to create an elegant breakfast room. Occasionally, the garage's location is well-suited to be converted to a guest room with a bath or a home office. Frequently, we provide a separate heating and cooling system for the room (which is on its own thermostat).

Reasons Why To Choose Garage Conversions
Even if you don't need more living space, a garage conversion could be useful. This is particularly true if you barely go in there! A garage conversion:
Can expand a particular room – For instance, if you want more space in your kitchen but don't want to build an addition, converting your garage is a great (and affordable) alternative.
Can act as an in-law suite – If you have relatives or parents you want close by, using a garage conversion for a small apartment or in-law suite is perfect. This way, they can live near you but still maintain some independence.
Can be a home office – Converting your barely used garage into a place for your home business is an ideal solution. Or, if you work from home a lot and want a nice office where you won't get disrupted, we can convert your garage into a suitable space.
Customized Garage Conversion in Maryland, Virginia & Washington, DC
Regardless of the type of garage conversion, comfort and aesthetics are equally important.
Although each garage conversion project must be evaluated on a case-by-case basis to achieve the maximum design and cost-benefit, the possibilities for creativity are endless, and the new space will bring great enjoyment to your home.
Contact Wentworth today if you're ready for garage remodeling in Maryland and surrounding areas in Washington, DC, and Northern Virginia!