Row House Kitchen Design
In the DC area, you can find many townhouses and row houses with kitchens that are small and often ill-fitting with modern lifestyles. And as the heart of your home and center hub where friends and family gather to cook, eat, and socialize, the kitchen can't afford to be less than perfect—both aesthetically and functionally.
Kitchen remodeling is a Wentworth favorite because it presents the opportunity for the perfect combination of function and design, which we pride ourselves on. Contact us today to schedule a consultation for your DC row house kitchen remodel!
Townhouse & Row House Kitchen Renovation Success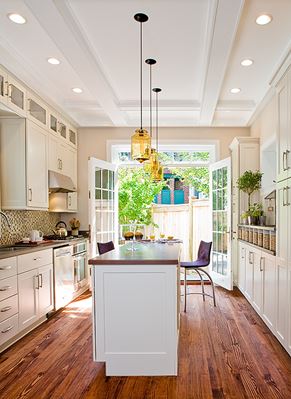 Before we even begin your row house kitchen design, we start with research. Just because you have limited space doesn't mean you can't have a kitchen that looks and functions exactly how you want. Based on your unique needs, lifestyle, and design preferences, we'll develop a plan that is perfect for you and your family.
To get a better idea of your renovation goals, we'll ask questions like:
Will the kitchen be used mainly for cooking large meals or entertaining? A bit of both?
What type of seating are you interested in? An island with bar stools? A banquette? Traditional table and chairs?
How can the home be altered to suit the current structure and architectural style but add space and function?
How will the home's age and style impact the aesthetics of the kitchen to ensure seamless integration of the old with the new?
And more
When it comes to smaller spaces, the key is smart design and maximization of what you already have. It can also be helpful to build up rather than out due to the long and narrow layout of row homes (an example of this is a hanging pot and pan rack). And sometimes, strategic placement of something as simple as lighting can make all the difference.
The Wentworth team can go over all your options and help you create the right design whether you already have your dream kitchen sketched out or you have no idea at all!
The Wentworth Value
When you remodel with Wentworth, we make sure everything is covered from the start of the project until the final walkthrough. We'll take care of every detail of your modern townhouse or row house kitchen design—we have in-house architects, interior designers, carpenters, and estimators, and our Production Manager will oversee all the day-to-day operations onsite during the remodel.
Feel free to browse our online portfolio. We've remodeled hundreds of small kitchens in the DC area. Contact us to discuss how the Wentworth team can help you achieve the kitchen you've always wanted!