Row House Design Ideas
Design-Build in DC
Washington, DC is home to many row houses and small spaces. Cozy and charming, they often boast beautiful architecture but you may feel like your space is outdated or too small. Moving isn't the only viable option, especially if you love your neighborhood and don't want to relocate.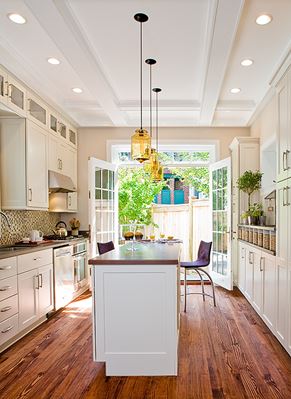 A row house remodel designed to fit the needs of a modern homeowner—or growing family—can be challenging and requires a thoughtful design, one that offers creative and intelligent solutions yet considers and protects the home's architectural integrity. If you're looking to remodel your row house and need some ideas, consider homes the award-winning team at Wentworth has remodeled throughout DC, from Capitol Hill to Woodley Park and more.
Remodeling Ideas for Row Houses
Consider these ideas if you're thinking about renovating your row house, townhouse, or other small space:
Build Vertically
Depending on whether your row house is in a historic district, zoning laws will sometimes accommodate a vertical expansion of a row house. If vertical expansion is an option for your row house renovation, a third floor addition could be an efficient way to add more space to your home. A third floor addition is sometimes a viable option in historic districts if the rooftop addition is set back far enough from the street to minimize its visibility. Whether a rear addition or a vertical expansion turns out to be better for your row house renovation, each addition should be evaluated on a case-by-case basis for its zoning and design.
Place Windows Strategically
If the zoning laws allow for an addition, it will be necessary to build firewalls at the opposing property lines. As windows cannot be installed in firewalls, natural light will be limited to the rear and front façades, so to get maximum amount of natural light, a row house addition should consider the positioning of windows. Occasionally the design of a row house's interior can be reconfigured to accommodate a vertical light shaft capped by a skylight, providing natural light.
Reconfigure Underused Space
Some zoning laws may not accommodate additions. If this is your case, interior space reconfiguration is practical. Have a garage, basement, or porch you hardly use? These areas can be a great way to maximize living space you actually need—like an expanded kitchen or living room.
Create Open Space
Many homeowners today don't like closed off kitchens and too many walls. This makes maneuvering more difficult and hinders socializing. The Wentworth team often finds that modern lifestyles are best suited to an open floor plan, one where the kitchen, dining room, and living room/den are arranged on the same floor without any walls separating them. An open floor plan is typically the most efficient use of space and is also an ideal floor plan for both entertaining and spending time with family.
Row House Design-Build & Remodeling in DC
The Wentworth team has worked on numerous row house renovations and additions in the Washington, DC area and understands the complications of building an addition on a small lot within the confines of zoning restrictions. We've also reconfigured many spaces, turning under-utilized rear porches into expanded kitchens and garages into living spaces.
View our portfolio to see homes we have remodeled and contact us for a design consultation to get one step closer to your dream home!